1071: Effective Dates & Deadlines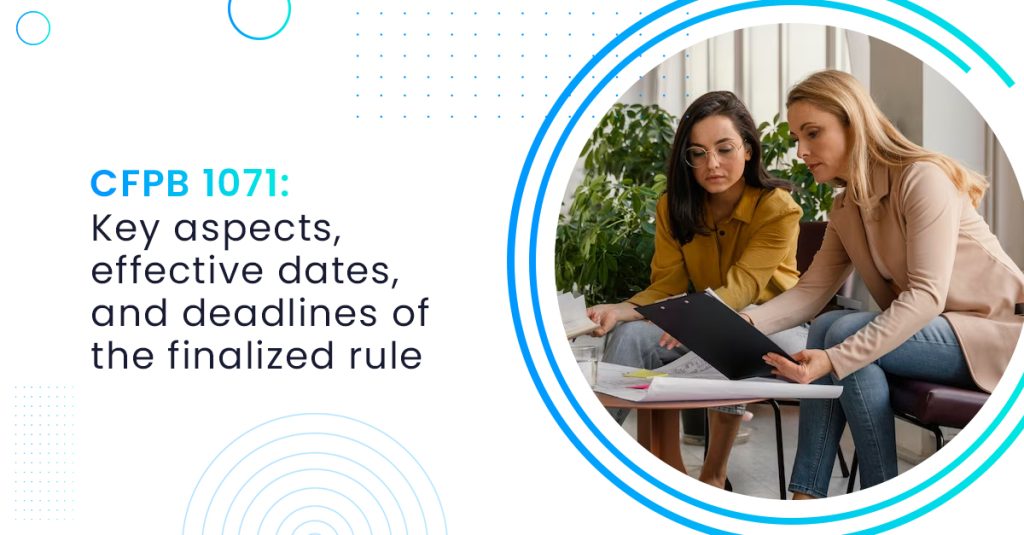 On September 1, 2021, the long-awaited Consumer Financial Protection Bureau (CFPB) provided parameters around a regulation that marks a significant event in financial services history. This regulation, known as section 1071 of the 2008 Dodd-Frank Act, mandates financial institutions (FIs) to collect and report data for small business applicants who are women-owned, minority-owned, and from underserved communities. The data collected will primarily be focused on demographic information, aiming to improve fair lending practices and ensure equitable access to credit among women and minorities.
The rule requires lending institutions to report specific data points, such as demographic information on women-owned, minority-owned, and LGBTQI+-owned small businesses. The CFPB will use this data to enforce fair lending laws and identify areas of community needs and access to credit. Furthermore, the data collected under the regulation will allow for the development of new programs and initiatives to support small businesses. This regulation marks a significant step towards fostering inclusive business practices in the financial services industry.
Final Rule – data collection points
The CFPB's commentary offers further insights into required data points, such as how to categorize certain data that might not be fully covered in the text. For example, the report states, "Covered financial institutions must not discourage an applicant from responding to requests for applicant-provided data and must otherwise maintain procedures to collect such data at a time and in a manner that are reasonably designed to obtain a response; when collecting data directly from the applicant, the rule identifies certain minimum provisions that must be included within financial institutions' procedures in order for them to be considered "reasonably designed." The rule also clarifies that financial institutions can rely on applicant information or third-party sources when compiling data.
Under the rule, financial institutions are not required to collect race and ethnicity via visual observation or surname if an in-person applicant does not provide any ethnicity, race, or sex information for any principal owners. Instead, the data will be reported based only on information provided by the applicant. Furthermore, The CFPB is providing lenders with a sample data collection form to assist them in collecting protected demographic data from applicants. The use of the sample form is not required, but it is an available resource to financial institutions.
Firewall: The rule requires financial institutions to implement a firewall to prevent underwriters or officers from accessing certain data collected from small business loan applicants. This data includes the applicant's responses to inquiries about protected demographic information, such as whether the applicant is a minority-owned business or a women-owned business. There are two exceptions to the firewall rule: the financial institution may determine that an employee or officer should have access to the applicant's protected demographic information, or the financial institution may provide a notice to all applicants.
In short, the CFPB requires a firewall to protect data from discrimination.
Section 1071: enforcement & timelines
The changes to the CFPB 1071 Rule are a bit of a mixed bag. On the one hand, there are several new reporting requirements for small businesses applying for loans from covered financial institutions. On the other hand, the reporting deadlines are tiered and extensive based on the number of credit transactions originated in each quarter. The rule provides a timetable for financial institutions to collect, verify and report small business loan data to the CFPB as part of its credit approval process. Knowing when to begin collecting 1071 data from applicants, as well as creating and submitting timely 1071 reports, is key to streamlining your compliance efforts with your financial institution. Financial institutions are considered covered financial institutions if they originated at least 100 covered originations in each of the two preceding calendar years. Compliance with the final rule varies based on the number of covered originations in 2022 and 2023, with different initial compliance dates. Financial institutions need to assess the number of covered originations in those years to determine compliance. Covered origination refers to credit transactions originated to small businesses, excluding amendments, renewals, and extensions. Institutions can estimate covered originations using reasonable methods if information is not readily available. The compliance date tiers for data collection and overall compliance are illustrated below: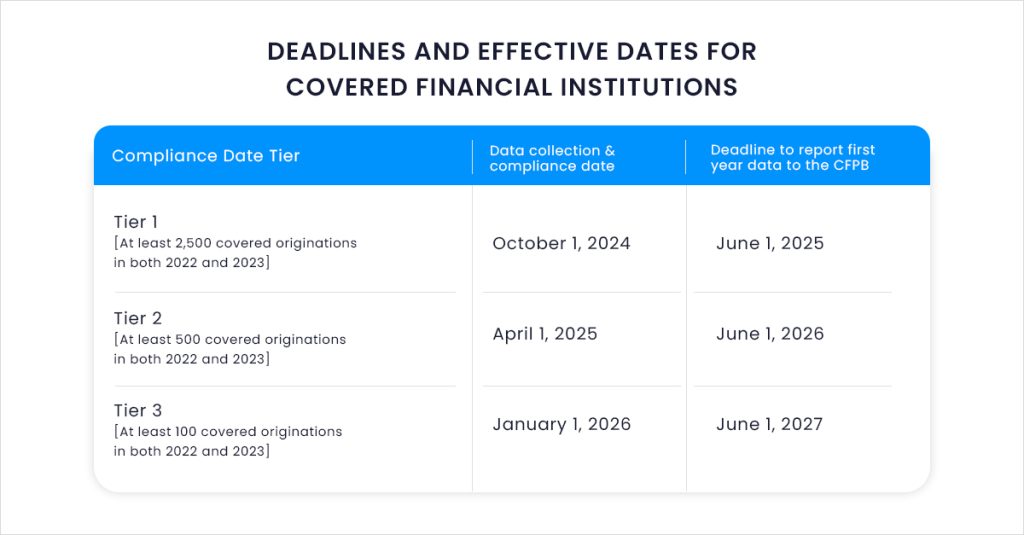 Note: even if it originated fewer than 100 covered originations in 2022 or 2023, a financial institution that originates at least 100 covered originations in 2024 and 2025 must collect data and otherwise comply with the final rule beginning January 1, 2026.
CredAcc is here to help with 1071 compliance
CredAcc is committed to assisting financial institutions of all sizes in achieving Section 1071 compliance. Our small business lending software streamlines the compliance process with a fast, digital, and compliant workflow. Through a borrower-facing collection form, all necessary data fields are readily available. Our solution also includes pre-built reports and seamless data export for CFPB reporting, ensuring simplicity in meeting compliance requirements.
In addition, our experienced consultants offer comprehensive support, serving as project managers, analyzing loan portfolios, and assisting with reporting and monitoring procedures. We understand the complexities and challenges involved in complying with Section 1071, and our team is dedicated to providing the resources and assistance necessary to ensure fair and equitable small business lending practices.
Our breakthrough capabilities and innovative approach to credit solutions have recently received recognition in Aite Novarica's evaluation report on Commercial Loan Origination System vendors. The report covers all impacts on lending, with a particular focus on Section 1071 compliance.
Contact us today to discover how CredAcc can support your institution in achieving Section 1071 compliance and maintaining a solid position in the ever-evolving regulatory landscape.
Learn how CredAcc can help your institution with section 1071 compliance