Top 6 features that make a 21st-century SMB Loan Origination System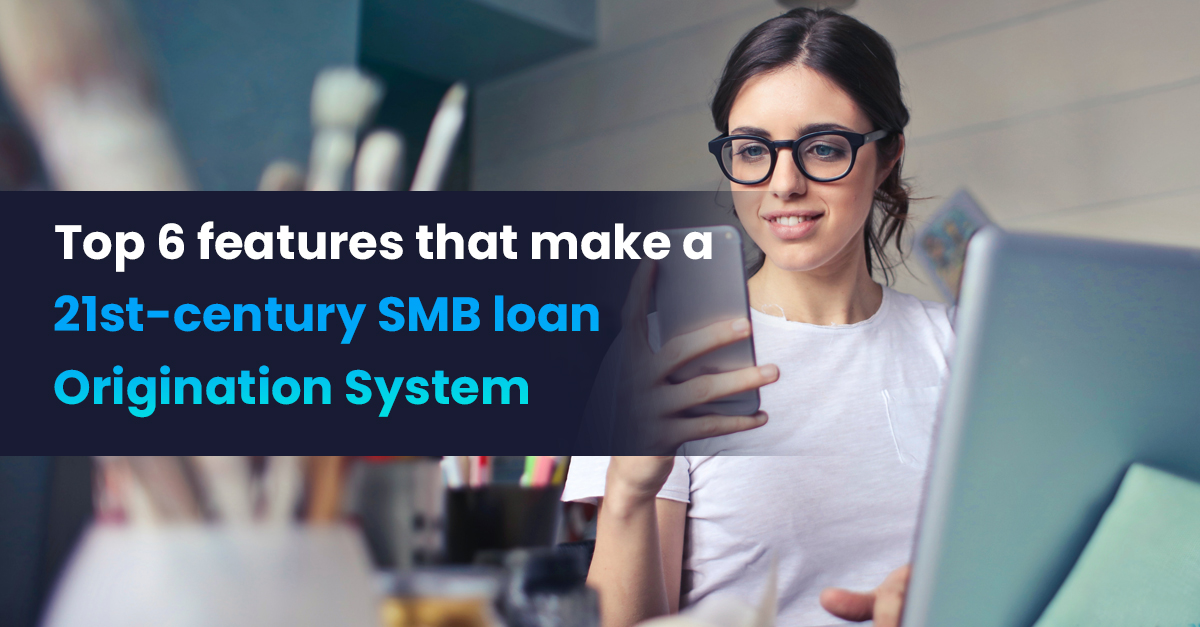 Significant tech advancements over the past decade have changed the small business landscape; with the onset of the digital boom, new opportunities have formed for various business models that would have been impossible just years ago. Are financial institutions (FIs) prepared to serve their SMB (small business) customers in the digital age with a similar digitally enabled lending stack? Customers have high standards for the services and financial products they opt for – they do not want to wait months to get credit. Today's SMB lending market is fragmented. Even the most straightforward processes usually require an in-person presence.
FIs today are presented with an opportunity to modernize their legacy lending tech to match the new-age, digital-first banking landscape and provide customers with a superior borrowing experience. Borrowers seek a seamless, frictionless, fast, and digital process in market where they have a multitude of options. With a proper understanding of current trends, FIs can deliver better, swifter, customized loan products that suit evolving SMB needs by implementing a next generation loan origination system
LOS (Loan Origination System) in the 21st century
SMB lending has become more challenging, frustrating, time-consuming, and expensive.
An LOS is software that automates the end-to-end lending process, including the loan application, customer onboarding, underwriting, credit decisioning, loan eligibility, approval, loan servicing, and disbursal. It is built to save time, reduce fraud and defaults, increase operational efficiency, and develop a better customer relationship while adhering to compliance regulations.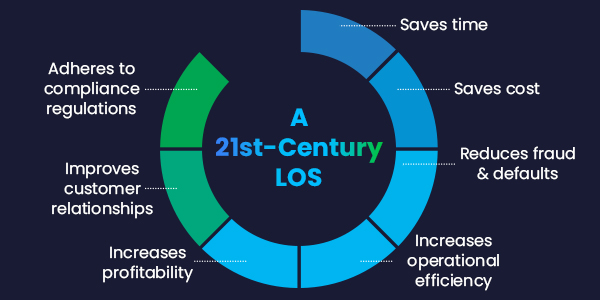 The most significant issue for SMBs today is cash flow, while the biggest challenge in borrowing are the months-long waiting periods. As alternate lenders provide loans in 24-48 hours, traditional FIs must now provide exceptional customer borrowing experiences to stay relevant. Dated lending processes require multiple systems to complete different stages of lending. According to a report by McKinsey, FIs can gain 20-30% in operational efficiency by digitizing customer journeys and reducing touch time. Moreover, banks can reduce non-performing loan (NPL) risk by 10-25% by making consistent decisions and enhancing risk models. A unified, end-to-end, intelligent SMB lending platform is an essential tool to help FIs provide agile solutions to their customers while being profitable.
Here's a definitive list of features that a next-gen LOS should have:
1. End-to-End Automation
Financial Institutions aim to scale their lending operations while improving their services. The loan origination process has multiple stages, such as customer onboarding, underwriting, servicing, and credit decisioning – scaling seamlessly with so many manual operations is difficult. With APIs (Application Programming Interfaces) for automated data connectivity and workflows, there's room for flexibility and convenience for both the lender and the borrower and a reduction in human error due. Automating end-to-end lending operations allows FIs to scale and handle high volumes without errors.
With a next-gen LOS, bankers can be much more efficient and concentrate on serving their customers, as they will be reducing the time spent manually processing KYC (Know Your Client) forms and small business loan applications. The right cloud-based LOS should have highly configurable features that seamlessly adapt to an FIs existing processes. It should also empower FIs with a paperless, 24/7 digital lending experience for quicker, increasingly accurate, and better credit decisioning to improve margins and increase revenue.
2. Automated underwriting
For FIs to continue growing, they must maintain a competitive edge; automated underwriting is no longer an option, rather a must have. An LOS with automated underwriting offers FIs with configurable features for different loan types. It should gather customer data from applications and other external sources to provide accurate and granular insights for underwriting to determine borrower creditworthiness. One should be able to set workflow rules, borrower eligibility, screening, and decisioning per an FI's policy to achieve a more streamlined lending process. As a result, it becomes significantly easier to categorize loan applicants by risk tiers with predefined rule-based scorecards and several application parameters.
With this workflow in place, the decision to approve, decline, or recommend a loan becomes much faster. With intelligent automated underwriting, FIs can serve their SMB customers better while meeting their risk policies and getting maximum ROI. It empowers them to scale rapidly and provide a better digital borrower experience
3. AI-based credit decisioning with 360° customer data
With AI-based credit-decisioning, FIs can tap into multiple data sources to better understand their SMB customer and keep pace with the changing business market. It's not just about the convenience but providing an opportunity to leverage more data to process, analyze, aggregate, and gain granular insights. With AI modules, borrower and risk evaluation become richer, yet greatly simplified. To obtain better control, you can create and improve rules that suit your SMB customer requirements.
A data-driven, intelligent LOS should be capable of advanced financial analysis to form faster, deeper, and overall better credit decisions. FIs cannot rely on massive amounts of data dumped into endless Excel sheets by credit analysts and account officers to determine the creditworthiness of borrowers. While manual processes – no matter how well-executed – can take up to days to run all these credit checks, an automated AI based credit decisioning model can complete this in a matter of minutes, with more accurate results.
4. Faster time-to-market – building lending products on the go
Digitally disrupted, new-age SMBs have ever-changing needs that call for instant innovation and flexibility. For FIs, this essentially means rolling out faster product configurations and new features with an increasingly rapid time-to-market than they do currently. A robust LOS can offer agile, easy-to-configure solutions to automate lending per business requirements. When it's easy to set up, highly configurable, and adaptable, an LOS can save FIs months or years of investing in new lending products and enable them to be rolled out in mere hours or days.
5. Open banking APIs with third-party integrations
With its tremendous potential, open banking is becoming a boon for FIs looking to lower costs and increase innovation in a competitive SMB lending market. It's the process where a customer allows third-party entities to access and analyze their banking information in return for a better credit score, loan terms, interest rates, and budgeting. Due to convenience customers today are ready to provide their personal banking information where there's a scope of value exchange.
Open banking is changing the future of credit analytics because it provides a comprehensive view of customer data – both traditional and non-traditional – empowering FIs with a more accurate credit decisioning model. A powerful LOS with third-party integrations can help FIs gather granular data insights using data from multiple sources. Consider it a way to build new products or services using your existing tech and intellect.
6. Unified SMB lending platform for all loan types and products
Most FIs and lenders enforce the same application and underwriting processes for all SMB loans, irrespective of the complexity and size of the request or the borrower's profile. Additionally, different loan products have different eligibility requirements and underwriting standards. As a result, the transaction cost to process a $5M loan turns is similar to that of a $50K loan. Alternatively, they end up relying on multiple LOSs to originate different loan types. Either way, there's a significant increase in operational expenses (OPEX).
Choose an LOS that provides automated workflows for multiple types of credit to facilitate an overall reduced total ownership cost. It should be flexible to accommodate new loan products quickly while also serving as a unified platform to host all your customers, employees, and partners. Bringing teams together on one platform has immense benefits: it can help sales teams with lead sourcing and onboarding, product teams innovate more quickly, and credit teams make accurate underwriting decisions. The LOS can provide all these benefits while offering complete 24/7 visibility, eliminating manual processes, and reducing OPEX significantly. Moreover, a centralized lending platform will offer holistic opportunities for better customer retention and satisfaction.

Redefine SMB lending with CredAcc's no-code Loan Origination System
Post-pandemic, as SMBs continue to emerge with changing trends, FIs must deliver newer lending services that meet their requirements. Upgrading your lending operations is vital to positioning your FI with a competitive edge for long-term success in an ever-evolving SMB landscape.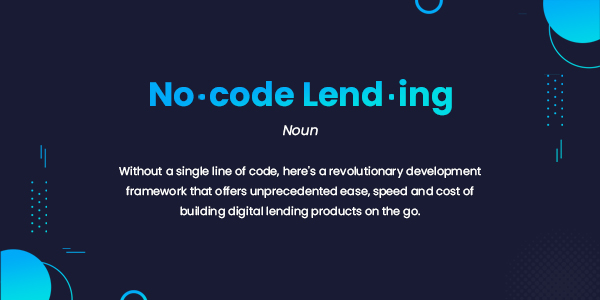 At CredAcc, we believe that lending innovation is only viable if it's quick and cost-effective. The perfect LOS should not only provide lending solutions for immediate financial needs, but it must also make room for adapting to changes in the future. With industry-pioneering tech, FIs can provide compelling lending advantages with exceptional financial capabilities for a superior customer experience. With SMB lending being economically important and profitable, we're here to assist you on your digital lending transformation journey with simplified and agile solutions.