Fintech Partnerships and Small Business Lenders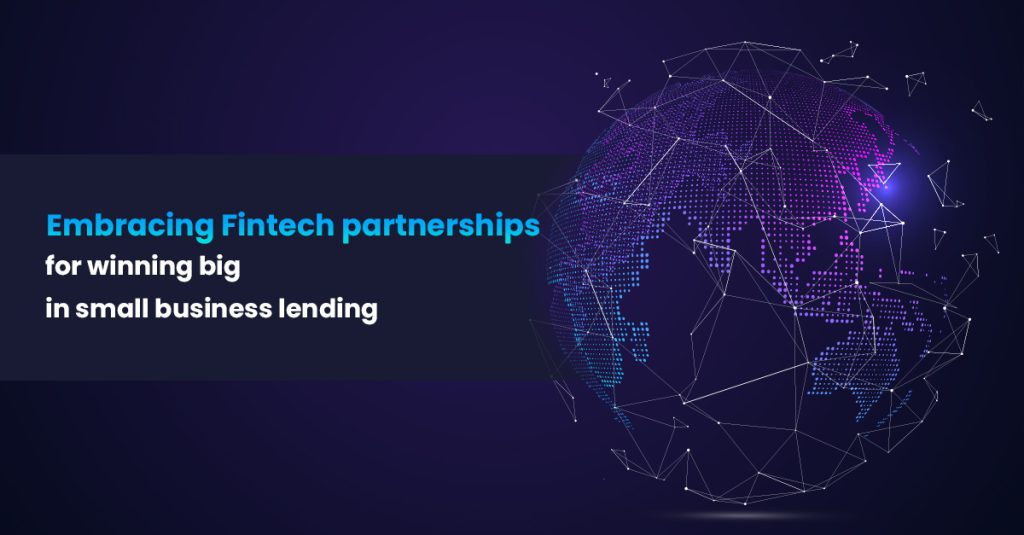 Traditional banks in the US have been around for over two centuries. Their years of experience, deep understanding of the industry, and regulatory landscape are compelling reasons for strong customer loyalty. However, despite spending millions to develop proprietary software, they are often held back by legacy systems that hinder innovation.
New-age fintechs, on the other hand, backed with next-gen technology to rapidly update and upgrade per changing market trends, can help financial institutions (FIs) deliver faster, customer-centric services.
A collaborative approach – the way forward for SMB lenders
In the current context of ongoing digitization, small business (SMB) borrowers still rely on their trusted relationships with banks, but they are no longer willing to wait long periods to get loans. They prefer faster credit and a better customer experience when choosing a lender and are willing to pay more. To stay relevant and ensure seamless digital borrower experiences, FIs must step away from rigid infrastructures that hinder innovation.
For FIs, fintech partnerships mean access to futuristic underwriting tools, AI-based automation, APIs, open banking, third-party integrations, and more without spending months and millions of dollars building systems from the ground up. FIs also better understand the challenges faced by SMBs and offer a range of products and services to solve them, increasing revenue. As we look ahead to 2023, FIs must understand the expectations of SMB borrowers in order to leverage fintech partnerships to efficiently serve them.

Digital-first lending: what your SMB borrowers expect
SMBs have unique and varied borrowing needs that large institutions with one-size-fits-all models cannot effectively meet. In the digital age, SMBs seek out lending partners who can provide the following:
Quick funding with minimal paperwork
Innovative lending products and flexible services
Integration with open banking APIs for faster credit decisions
Superior customer service
One of the primary demands among SMB loan applicants is faster credit, and there is a significant gap between borrower expectations and lenders' processes. To foster profitable relationships with SMB borrowers, FIs need to understand their challenges and expectations, focus on their needs, and offer flexible, data-driven solutions. Some other crucial expectations that FIs must identify and fulfill to remain competitive include: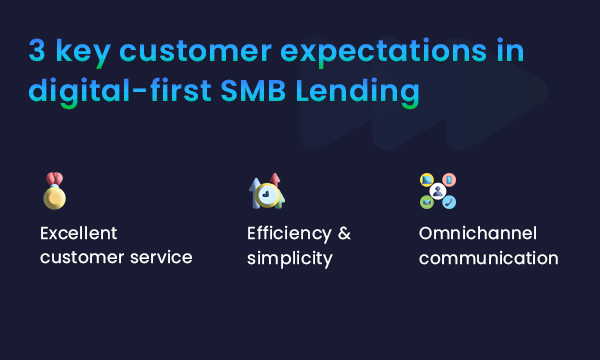 1. Excellent digital experience and customer service
FIs should note that today's SMB borrowers will not compromise on convenience. They expect seamless, end-to-end borrowing services that offer easy loan applications, fast credit decisions, and smooth delivery. Traditional lending experiences still call for in-person meetings and loan applications. Since SMB loans involve a lot of negotiations (such as amount, term, interest, and more), lending products must be flexible. To ensure customer satisfaction and loyalty, FIs must respond to changing expectations and deliver required services in innovative ways.
2. Omnichannel communication
For all their requests, concerns, and complaints, SMB borrowers expect omnichannel support from lenders. Whatever their preferred communication channel – in-person, online, or phone – FIs must provide it. Though this service was widely accessible during the pandemic, customers still expect this convenience. Delivering such an experience gives FIs a competitive advantage.
3. Efficiency and simplicity
Lastly, the importance that customers place on efficiency and simplicity in the loan application cannot be stressed enough. Borrowers prefer services that require minimal effort and information input. Implementing automation saves FIs time in both the application and credit decisioning process.
How FIs can redefine SMB lending with fintech partnerships
Fintechs are transforming SMB lending by introducing innovative and flexible offerings that challenge traditional FIs. To reach their full potential in lending profitability, FIs must embrace fintech-led solutions that provide next-gen services. With a robust digital strategy and a powerful loan origination system in place, FIs can offer streamlined services to their targeted borrowers while being able to provide upgrades as required. Furthermore, there is massive untapped potential in automated underwriting and loan origination processes that FIs can leverage to serve their SMB borrowers better.
Fintechs provide a full spectrum of technology and services that can help FIs deliver what all SMB borrowers want – fast credit, easy accessibility, and excellent customer experience: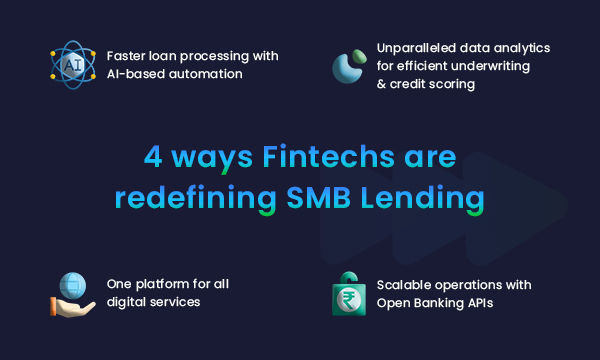 1. Faster loan processing with AI-based automation
Fintechs have transformed how lenders leverage AI-based automation and analytics to drastically improve their data use. By eliminating lengthy, tedious, error-prone manual processes, FIs can speed up their operations and reduce the delivery time from months to minutes. Hence, responding to rapidly evolving SMB market conditions is much easier.
2. Unparalleled data analytics for efficient underwriting & credit scoring
Traditional credit scoring models with limited data sets no longer work for SMBs. Restrictive credit conditions from FIs often exclude profitable SMBs due to their limited credit history. Fintechs partner with best-in-class data sources to understand customer analytics in a deeper way for more enriched underwriting. Open banking APIs increase data access, enabling underwriters to assess creditworthiness and FIs to offer tailored solutions. Moreover, real-time financial data from reputable credit bureaus in one place allows customers to access funding and identify risks quickly.
3. One platform for all digital services
Borrowers today expect the integration of financial services on one digital dashboard. With pre-built configurable modules by fintech platforms, FIs can easily overcome legacy system innovation hurdles. They can provide a marketplace for their borrowers that can act as a unified hub for all transactions.
4. Scalable operations with Open Banking APIs
With next-gen fintech services, FIs can use real-time data for broader eligibility for a range of lending products. Leveraging the cloud and open banking APIs enables FIs to offer cost-effective, targeted lending services. In the past, this would have taken months and cost millions in terms of licenses, fees, training, and IT teams. The right fintech partner can efficiently integrate legacy systems to replicate lending processes per the institution's financial goals.
Is your institution ready to benefit from fintech innovations?
Fintechs have truly disrupted traditional lending methods by providing data-led and tech-focused solutions that are more efficient and effective than dated legacy systems. While traditional SMB lenders still have the advantages of prior customer relationships and many years of lending expertise, a collaborative approach with new-age fintechs can help them reach their maximum potential. Fintech's collaboration with traditional lenders can bring about a much-needed cultural change in SMB lending, providing faster credit for borrowers and long-term profitability for lenders.